Shopping in Dover is easy and there are great options to choose from!! New for Spring 2018 is St James Retail Park with your favourite big name brands including Next and M&S etc.and new Cineworld Multiplex. Located just a few minutes walk away is the fabulous waterfront shopping at De Bradelie Wharf - if you're looking for somewhere to enjoy quality 'retail therapy' or to take 'time out' either on your own or with friends or perhaps for a 'girlie weekend' - then Dover, in the heart of White Cliffs Country makes a great base.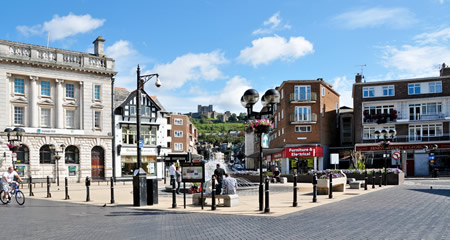 Shopping in Dover itself is easy and relaxed with no less than 3 main shopping areas! The High Street branches from the Market Square with Tourist Information Centre and Dover Museum (Bronze Age Boat) - it's level and part pedestrianised. There's a diversity of smaller shops on offer - everything from fashion, art, crafts and quality gifts to books and marine supplies – all are interspersed with banks, pubs, restaurants, cafes and tea rooms making shopping in Dover itself an altogether pleasant experience however, for the more determined shopper from Spring 2018, comes St James Retail Park and Cineworld Multiplex with some of your favourie big name Brand outlets and Eateries. Sitting on the Marina waterfront we have the delightfull De Bradelie Wharf - with the best brands (Klass, Tigi, Skopes, Tog24 & Pavers to name but a few) - at the best prices!
Dover town center shops generally open 9.00 to 5.30 Monday to Saturday. Marks & Spencer opens at 8.30 on Friday & Saturday. The town center supermarkets (Morrison's, Asda, Co-Op) open on Sundays 10 am to 4 pm – however if you're looking to stock up prior to your holiday or coming to the UK expressly to stock up on all those 'British' essentials such as Marmite, Bisto, Marmalade, bacon and sausages then the Whitfield Retail Park, located just 3 miles away with its 24 hour Tesco Superstore is the place to go (store & petrol station open 24 hours). B&Q DIY store (with Plant and Garden Departments), Car Sales, Plumbing Specialists, Builders Yards are also located in the vicinity.
We invite you to come and stay and enjoy shopping in and around Dover UK – you could also use Dover ferry crossings to pop over to France for the day to visit Calais, Dunkirk – visit local Dover Eurochange for great ferry rates and currency exchange.