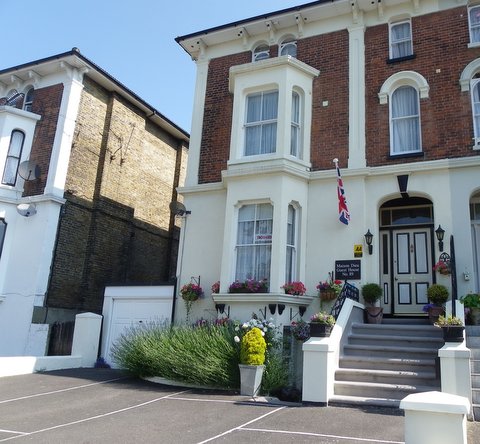 Book your stay in Dover here on our website for best rates and affordable comfort & convenience. B & B guest house in Dover Kent South East England with forecourt parking, free WiFi and quality accommodation - some with stunning views of the fabulous Dover Castle!
Best rates bookable here! For any b and b bed and breakfast B&B stay in Dover Kent England, location is key - we are ideally located to offer convenient ferry stopover enroute to and from Dover England and mainland Europe. Dover P&O ferry & DFDS ferries (for Calais/Dunkirk) , Dover cruise - terminals and The White Cliffs of Dover England are just 5 minutes drive away from Maison Dieu Guest House Dover ( or 20 minutes walk) and the Channel Tunnel Eurotunnel England is 15 minutes drive away. If travelling by National Express Dover coach, bus or train, our Dover guest accommodation is situated just a few minutes level walk from both bus & train stations and of course, Dover Town Centre. Walkers are Welcome Dover! Travelling with a Family of 5? - we have several room combination options that may suit your needs!
AVOID A FINE! PAY Dartford Crossing Toll (tunnel or bridge) online within 24 hours (motorbikes exempt)! : www.gov.uk/pay-dartford-crossing-charge or use our local Dover www.payzone.co.uk to pay in person.
Please note - MAJOR ROADWORKS on M20/A20 Dover approach road - BEST ADVICE IS USE A2! English Heritage Dover Castle, Deal Castle & Walmer Castle are within 10 to 20 mins drive - Winter opening OPEN February Half Term & then Wednesday thru to Sundays 10 - 4pm (Summer hours from April). Historic Canterbury is just 20 mins drive or 30 mins bus or train! Walkers are Welcome here in Dover! See www.whitecliffscountry.org.uk for 'Events & What's On' in White Cliffs Country Kent
Email info@maisondieu.co.uk or call 0044 (0)1304 204033 - hope to see you soon!

White Cliffs Dover Hotel & Guest House Group Member