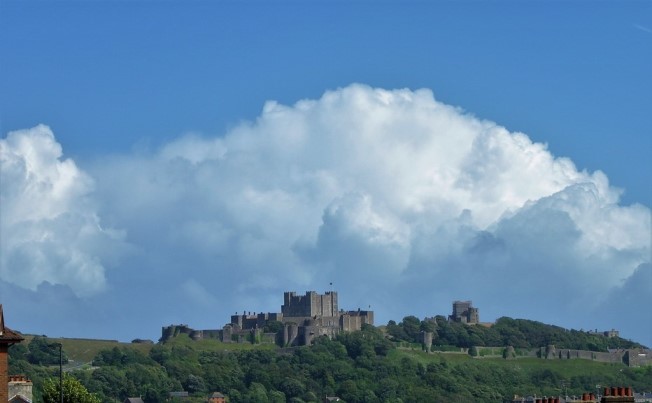 For the visitor or for those simply travelling through Dover, it's a remarkably small and easy town to navigate – especially surprising since it's attached to one of the biggest Ports in the UK The Port of Dover
We at Maison Dieu Guest House are ideally located just 10 minutes' level walk from the seafront (walk left with the flow of traffic) and 5 minutes' walk from the town centre (cross the road and follow the footpath to the right of the tree into the town centre). Dover Priory rail station and the town centre bus stop in Pencester Road are 5-10 minutes' walk.
We have a recommended list of restaurants (tried and tested many times) – all are within easy walking distance so there is opportunity to leave the car behind! For those travelling and in need of laundrette – The Mangle is approx. 10 minutes' walk and offers a 'service wash' if required. I will not go into what is available in the old town centre here (see my Blog 'Shopping in Dover') but the basics of supermarkets, pharmacy, Tourist Information are available - the new St James Retail & Leisure Park with multi screen cinema ,M&S Foodhall, Next, Trespass and much more, is a welcome addition to the town. There are many cafes and a few good pubs to while away an hour or two… a definite favourite being The White Horse (c1365), St James Street, with its' super friendly Landlords Jules & Stu and excellent food and atmosphere. The Ferry Port of Dover is quite literally to the end of the road and turn left (5 minutes' drive, 15 minutes' walk), the Dover Cruise Terminals are to the end of the road and turn right – 10 minutes' drive (walking not recommended) – or approx. £8.00 by taxi.
Dovers' undoubted greatest attractions are very do-able from here (even without a car) …the magnificent Dover Castle (Dover Castle Opening Times) sits right behind the house on the hill and is between 15 – 25 minutes' walk (5 minutes' drive) – and the wonderful White Cliffs of Dover (National Trust White Cliffs) are within 20 – 30 minutes' walk.
So it's all here for a stay in Dover UK – coast, cliffs, castle, shops, restaurants, ferry, cruise and history – and it's all just so easy! Travel to UK advice and requirements.
We are 'Good to go' in that we have carried out the required risk assessment and implemented changes to comply with social distancing guidelines, prepared hand sanitising stations, and increased cleaning and sanitising throughout the guest house. We request that guests wear face masks in all public areas; entrance reception, hallways, stairs, during check-out and when entering or leaving Breakfast Room. Tables will be socially distanced, so no requirement for masks when seated. Sanitizer station to be used when entering the property, when entering 'communal spaces' IE stairs and hallways, and before entering the Breakfast Room. Signing will advise guests of these arrangements and also for them to please observe social distancing. A valid mobile number and full name and address of at least one member of all parties will be required (for Track & Trace purposes). Barry and I will also be implementing these, and additional steps to ensure the safety of our guests – and of ourselves, but please do 'bear with us' whilst we adapt our business to accommodate these key safety measures.