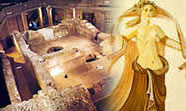 Fascinating, discovered by the Kent Archaeological Rescue Unit in 1970 (KARU) and built about A.D.200 as part of a large official hotel for leading Roman travellers crossing the English Channel. It stood outside the North Gate of the great naval fort of the Classis Britannica, but in A.D.270 the Roman army during the construction of a larger fort demolished it.
Three of its main rooms were then buried substantially intact under its ramparts. Visitors can see the the various heating ducts & channels that kept the building comfortably warm 1,800 years ago.
Open April – September (closed Sundays and Mondays).
For further information ring +44 (0)1304 203279 or
click here