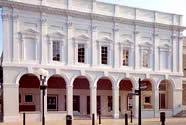 The local history museum is situated in the town centre of Dover and is fronted by the new Visitor Information Centre.
Being one of England's oldest museums, the collection contains a great number of objects reflecting the changing fashions in museum collecting. It contains, as well as objects of local importance, a range of unusual items reflecting the Victorian love for what was considered 'exotic'. It is also home to the world famous Dover Bronze Age Boat, the world's oldest known seagoing boat and a fascinating archaeological discovery – the exhibition is quite stunning!
Contains a research library – by appointment: 01304 201066
For further information ring +44 (0)1304 201066 or go to the Dover Museum
10am – 5pm Monday – Saturday and 10 am – 3pm Sunday April-Sept. Closed Sundays Sept – March.
Please check the Dover Museum for opening days & times.