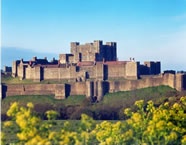 Absolutely magnificent – one of English Heritage's premier sites. Strategically placed on the famous White Cliffs of Dover it is rightfully named the "Key of England". Two thousand years of history, from the Roman Lighthouse, the Iron Age Fort, a Saxon Church to the secret Wartime Tunnels, make this a must for your itinary. The Norman Keep houses the latest exhibitions: Preparations for the visit of Henry VIII & the Seige of 1216. Deep inside the White Cliffs see where wartime personnel were stationed during World War II. The evacuation of Dunkirk was masterminded here.
For further information ring +44 (0)1304 211067 or go to the Dover Castle Website
English Heritage open Dover Castle at weekends only November – March.