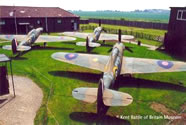 Kent Battle of Britain Museum
Based at Hawkinge Airfield the museum hosts the country's largest collection of 1940 related items. The display includes the most important display of British and German 1940 flying equipment. Artifacts recovered from over 600 shot down aircraft from both sides.
Spitfire & Hurricane Memorial Building
Fine examples of these two aircraft are on display at R.A.F. Manston which was the closest airfield to the enemy coast during World War Two.
Battle of Britain Memorial
www.battleofbritainmemorial.org
Museums & Places of Remembrance in Europe – www.warmuseums.nl